AI: Accelerating Retail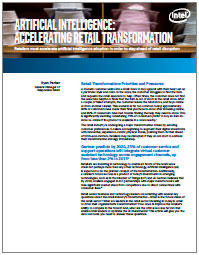 Adoption of artificial intelligence is crucial to staying ahead of retail disruption.
With leading retailers shifting their focus onto AI and analytics, it's clear that data is becoming a driving force in retail transformation. So much so that Gartner believes "by 2018, retailers engaged in IoT partnerships with major manufacturers will take significant market share from competitors due to direct connections with consumer lives1."
This report explores how AI and the data it gathers are powering the retail revolution and enabling:
Lower labor cost and improved customer service
More personalized in-store experiences
The ability to manage the value chain in alignment with shifts in customer behavior
Reconciliation between digital and physical storefronts
Armed with this information, you'll have everything you need to get ahead, and stay ahead, of disruption as you prepare for the future of retail.